PLE Knowledge: Learning from the successful
Software and electronics are an essential part of almost all modern products. The resulting complexity and a constantly increasing number of product variants pose great challenges for product developers. This is also the experience of Ben, who is developing a new generation of coffee machines. In such a case, it is good to have friends and learn from their experience.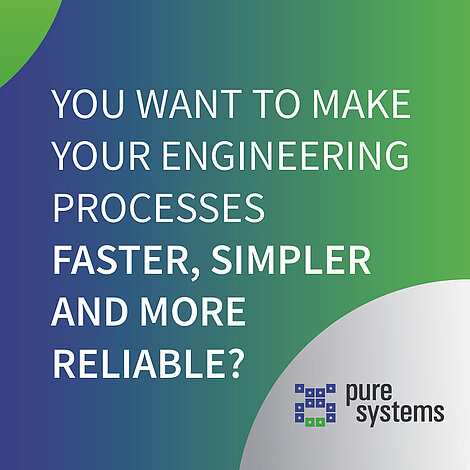 pure-systems: our mission
Delivering high quality products at an attractive price point just at the right time is the holy grail of product development. Our mission is to help our customers to achieve this goal through holistic variant management and product line engineering. With our products and services, we enable companies to free up their creative engineering potential by reducing the effort spent on the maintenance of existing products. By automating what can be automated, by helping to avoid unnecessary complexity and by making the remaining complexity as easy to manage as possible, we enable our customers and partners to operate more efficiently.
pure::variants
pure::variants offers a holistic solution to the challenges posed by an increasingly individualized and complex software engineering market. Slotting right into your existing process chains, pure::variants uses the similarities between products in your product lines to optimize the whole process.

Why pure::variants?
Finds efficient solutions that are the perfect fit
Slots seamlessly into existing tools and processes
Steers and manages complex tasks
Finds solutions to your requirements
Automatically identifies and resolves issues
Based on the Eclipse open development environment
Comes with full tool support throughout all stages of development
Keeps variants and existing integrated tools updatable for a long time
Easy and quick to implement - also thanks to our consulting and training offering
Can be scaled to fit any project
---
Our software products and services can be purchased directly from pure-systems or through our partner network.
---
pure::consult
Holistic solutions require a holistic understanding of service. With pure::consult we combine consulting and other services to support you in executing your complex projects more quickly and more effectively.

Together as a team, we will make your digital R&D software, systems engineering processes and Product Line Engineering (PLE) strategy faster, simpler and more secure.
As a provider of the world's leading software solution for product line management, we have been helping our customers optimize their processes and products for over 20 years.
Find out more about pure-systems and our partners.

Careers: You and pure-systems
In pure::variants we have developed a truly unique tool that meets state-of-the-art development requirements for product lines with a wide range of variants. Now we're looking for creative minds to join us on that journey and become a part of the team that creates the engineering of tomorrow. Are you up for the challenge?
---
You might also want to have a look at
PLE knowledge
What is Product Line Engineering (PLE)? What is variant management? How are these two topics related? Answers to these and other questions can be found in this section.
Newsroom
Here you will find the latest news about our products and our webcasts and events.
Sign up for our newsletter
No spam, just useful information on product updates and bugfixes.
For further information regarding the collection and handling of your personal information please note our privacy policy.