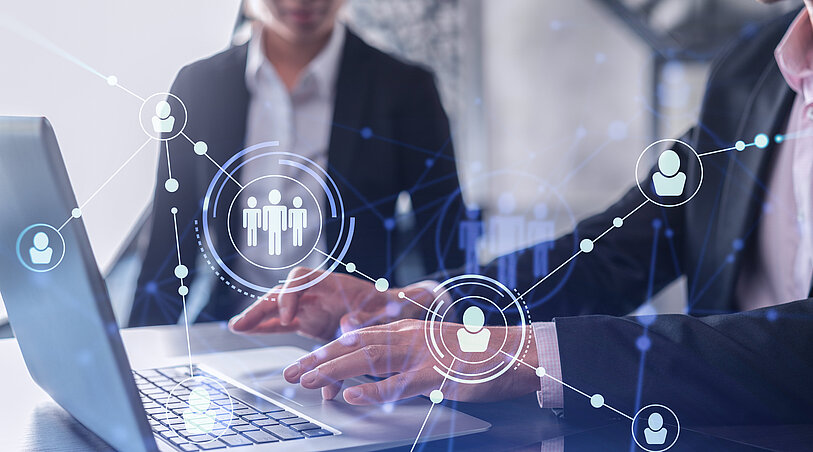 The right fit for every stage.
Holistic thinking doesn't end with development. That's why we have created pure::consult – a comprehensive offering that combines consulting and other services. Our aim? To help you implement complex projects faster. To do just that, our team of consultants, as well as field application and software engineers are there by your side as partners at every stage of the process. We provide what you need to integrate pure::variants into your processes and tool chains perfectly, smoothly and pragmatically. This includes everything from tool-related consulting and integration solutions to online and in-person training courses, as well as on-boarding support during operation. Together as a team, we will make your digital R&D software, systems engineering processes and Product Line Engineering (PLE) strategy faster, simpler and more secure.
Our services
Develop knowledge
PLE is our thing and we love passing on what we know: Not only are we continually developing our expertise in PLE, variant management, product creation processes and software/systems engineering, we also love sharing it with the global engineering community. Because we believe sharing is the cornerstone of improvement.
Discover what PLE can offer your company and benefit from our expertise through e-learning, online workshops, tutorials and presentations, as well as through engaging with us at symposiums and in the community.
For anyone interested in a deep dive, we also offer tailor-made online or in-person workshops.
Pinpoint your evaluations
Getting there faster together: With our Guided Evaluation service, one of our field application engineers supports you step by step in evaluating pure::variants. This means you get a targeted validation of accelerated return-on-value when you start holistic variant management and PLE with pure::variants.
What's included:
60-day evaluation license (including all tool connectors);
16 hours of tool-related online consulting, available on an hourly basis;
When you purchase or rent a license, our sales team will work with you on what will be charged for this service.
Are you a project manager, architect or product owner looking to get a grip on the complexity of variants in your product line or architecture? Then our Quick Start service is just right for you. A combination of training and workshops will teach you the best approach for optimizing your variant management with pure::variants – whether in DOORS or with Enterprise Architect or NoMagic, it will be targeted and pragmatic.
What's included:
Two days of training focusing on one or two tools to be integrated;
One or two day-long workshops;
One or two days of online consulting, available on an hourly basis.
Contact us and jump straight into the world of product line engineering
Get stakeholders involved
Let us support your internal onboarding with our Guided Pilot service: Whether it's marketing and product management, requirements management, model-based systems engineering, coding, electronics and hardware development, or testing and validation – we can help you get the right colleagues from other areas involved and familiarize them with the project.
What's included:
10 days minimum of training and tool-related consulting, available as needed.
The pinnacle of customization: One of our principal consultants takes a deep dive into your product lineup to analyze the key obstacles you face in implementing a product line strategy. Partner up with your personal consultant to kick-start your digital PLE and Model-Based Systems Engineering (MBSE) strategies within your company. Our principal consultants can be with you every step of the way: from developing a method manual and modelling guidelines to supporting your PLE strategy by aligning your digitalization strategy with PLE strategies for your individual product line, right up to presenting at board level. And for consulting at a corporate strategy level, we can pull in internationally renowned experts from our ecosystem.
What's included:
Simple, efficient and customizable: All of our training is also available virtually, as soon as you want it. Simply use our Digital PLE Playground which is configured to your tool chain. Thanks to state-of-the-art virtualization technologies, global teams can come together from anywhere and find the right training environment already there and waiting. At the same time, your coach is working to make sure the training stays direct and personal, even when it's virtual and not in person.
We help you integrate pure::variants into your workflow – your IT infrastructure, processes, methods and tool chains. To do so, we use either a standard tool or an individual tool connector to integrate your company's tools, for instance. Perhaps you'd like to connect software and systems engineering with PLM as a holistic variant management process that is both systematically and consistently structured? Integrating pure::variants with ERP and a PLM system means this is absolutely no trouble at all.
What's included:
Company-wide pure::variants license with individually agreed services.
Practical and goal-oriented: With our IT and PLE operations support, we offer IT staff and experts from specialist units the perfect service to guarantee a seamlessly available digital PLE solution – with personalized consulting and tailor-made service packages.
What's included:
Integrate for the long-term
Full team commitment: You have decided to introduce pure::variants throughout your company. Great! Now it's time to get all the different product areas and business units on board. To successfully implement PLE, all staff, teams and partners have to understand why the approach is so beneficial, why walls are there to be climbed, and why we can only really get ahead by collaborating. A one-day online workshop will teach your team everything they need to know about PLE, launching your virtual PLE and MBSE journey. Moving forward, further individual training sessions can be booked for specialist units.
---
You might also want to have a look at