Sustainability starts with product development
by Danilo Beuche
August 2021
Clever variant management ensures sustainable processes and products
​Many companies are increasingly focusing on sustainability, not least for image reasons. With a holistic approach, sustainable product development can also make economic sense. This is possible with systematic reuse by means of product line engineering and the use of intelligent software. On the other hand, one should say goodbye to piecemeal solutions such as manually maintained Excel sheets and similar workarounds. ​
Just a few years ago, it would have been hard to imagine that car manufacturers would push for an end to the combustion engine. A fundamental change is on its way and sustainability is playing an increasingly important role. The company's image is a big factor. In almost all industries the public pressure from customers and governments to become more environmentally friendly is growing. More sustainable products play an important role. ​
Developing sustainable products makes sense for companies to meet this demand. However, it must also work for them economically. Especially for complex products this is not a small challenge. A holistic approach is required. It all starts with product development - and it is not just about the hardware. Software ages just like any other component of a product. Software that no longer works (e.g. with security issues and no available updates) is often a reason for replacing otherwise still perfectly working products. Thus, development and continuous engineering through the life of the products needs to be addressed by companies in order to deliver more sustainable products. ​
All companies can benefit from intelligent software solutions ​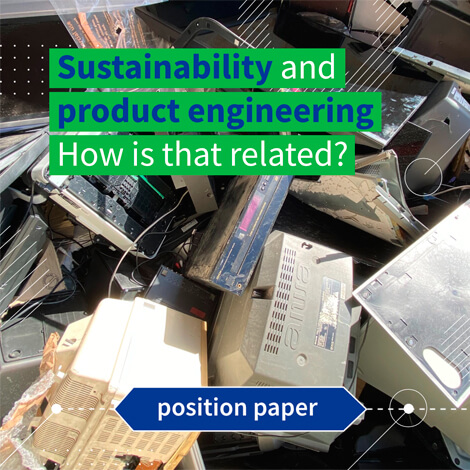 Such a waste of resources and working time is common. Yet solutions to these problems have long been available. As one of the pioneers in this field, we are working on software solutions that contribute to more sustainable development and production. With our holistic software tool pure::variants companies around the world benefit from sophisticated variant management and feature-based software development. After more than 20 years, an entire eco system has been built with technology, business and consulting partners to drive product line engineering and standardise software solutions to develop and produce products more effectively and sustainably. ​
Companies that use pure-systems variant management for sustainable PLE include not only well-known carmakers, but also aviation companies and IT groups. Companies in other industries that offer different product variants can also benefit from software-based PLE solutions. The systematic and holistic management of hardware and software variants with pure::variants ultimately improves quality and leads to sustainability. ​
Once a company has embarked on this path, the products can become almost arbitrarily complex. Method and software ensure consistent quality, and analyses of actual data provide suggestions for meaningful further optimisations, so that a product line can become increasingly efficient over time despite increasing complexity.
More time for innovative products
With the help of software-based variant management, requests as to whether or not new product variants can be created, and if so, how quickly, can ultimately be answered much faster. Thanks to the time saved compared to time-consuming and confusing methods such as Excel spreadsheets, the developers can concentrate on their core competencies, which benefits the company's innovative strength. For example, the developers have more time to work on new and attractive products - such as e-motors or batteries that are more efficient and durable than those of the competition.
---
About the author
Prof. Dr. Danilo Beuche is co-founder and CEO of pure-systems and one of the leading minds in Product Line Engineering (PLE). Danilo is driven by the idea of helping companies to develop better, longer-lasting products while always paying attention to economic reuse and sustainability. In 2001, he co-founded pure-systems, a software company specialized in services and tool development for the application of product line technologies in embedded software systems. As the market leader in PLE, pure-systems helps global enterprises and medium-sized companies to keep costs low while improving the quality and safety of their products.
Before founding pure-systems, Danilo worked on tool support for feature-based software development at the University of Magdeburg. Since 2016 he is also an Honorary Professor at the Information Systems Institute (IWI) of Leipzig University.
---
You might also want to have a look at